Same old story.
Another weekend, and yet another snowstorm slid in and out of here, making us slide everywhere!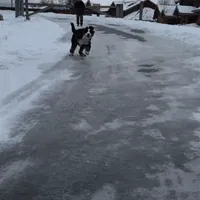 Friends are takin' their house and moving to Alaska!
It was 40* there today!
.
---
.
Looks like March might come creeping in like a lion, but click HERE to see our extended forecast.
It could leave as a lamb.
Keep your fingers, (and toes!), crossed!
.
---
.
FAREWELL and HELLO...
For around 13 years our little town of Murray relied on the knowledge and friendly professionalism of our Village Clerk and Treasurer, Eileen Murdoch. Needing answers to any number of questions or problems that would arise from time to time, a visit or phone call to Town Hall would result in her either providing the information we needed or, if she didn't have the answer available, she'd try to find out and get back with an answer. Being responsible for the accounts of each household in town, corresponding with state officials and keeping innumerable records requires an immense amount of detail. I could tell that Eileen always took her job seriously and I appreciated that she strived to do her best to master every task at hand. Eileen has now moved on to something else and I'm sure I'm not the only one who will miss her presence. Farewell, Eileen. We wish you well, and much joy, in your new endeavors.
At Eileen's impending departure, the search was on for someone willing to take on the job of Village Clerk. Shelli Hayes answered the call to this duty. I want to extend a warm 'hello and welcome' to her and invite everyone to also wish Shelli all the best in learning her new job.
The minutes of the Murray Village Board of Trustees are now posted.
Click on the 'Village Office' tab above to read the latest.
.
---
.
(Pat Zeigler)
A BIG THANK YOU to our Village Maintenance guy, ERIC MATSON, and the county and state road crews, for keeping our roads cleared, (and cleared, and cleared, and cleared...you get the idea) and for all your hard work, especially in this extremely cold, frigid weather!
Also, when water mains burst or power goes out, a big THANKS to all those who brave the cold and get out there to fix things up and get them going again!
.
---
.
MURRAY FREEDOM FESTIVAL MEETING REMINDER
The Murray Freedom Festival NEEDS VOLUNTEERS!
The Murray Freedom Festival Board of Trustees and Volunteers meets at 7 p.m., on the first Tuesday of each month, at the Murray Town Hall, 106 W. Main Street, Murray, NE, to discuss the future of the Murray Freedom Festival. Next meeting, March 5th!
The 2018 Murray Freedom Festival was a fantastic event, but the MFF NEEDS YOUR HELP TO CONTINUE!
Without volunteers, the Murray Freedom Festival will not have the human or monetary resources necessary to run the event in 2019. Sadly, this means that the 2018 Murray Freedom Festival is in peril of being the LAST one.
If you have enjoyed the 4th of July events in Murray, we NEED YOUR HELP to continue providing this event for the people in and around the Village of Murray for the year 2019 and beyond!!
The Murray Freedom Festival, a long-running 501c3 non-profit organization, is looking for enthusiastic individuals who are interested and have the time to help run the Murray Freedom Festival!
We meet once a month, on the first Tuesday, and meet a few additional times in June, as we near the 4th of July.
Please bring your ideas and interests. All positions on the Board of Directors are available, as are all fundraising and event chairman positions.
DON'T LET THE MURRAY FREEDOM FESTIVAL END WITH THE 2018 CELEBRATION! Please show your support and volunteerism at the next meeting.
Thank you.
We welcome your ideas to help us improve our events!
.
---
.
We had to cancel our last pancake feed, because of weather, so we're trying again on March 10th!
Hope to see you then!
.
---
.
.
---
.
.
---
.
.
MARK YOUR CALENDAR NOW!
CORNED BEEF AND CABBAGE DINNER
MURRAY CHRISTIAN CHURCH
MARCH 17
MORE DETAILS AT A LATER DATE
.
---
.
.
---
.
URGENT CALL for BLOOD!
(Click the Red Cross to read more!)
Upcoming blood donation opportunities:
Louisville
2/27/2019: 10 a.m. - 4 p.m., Louisville High School, 202 West 3rd Street
Murray
3/25/2019: 11 a.m. - 5 p.m., Conestoga High School, 8404 42 St., PO Box 40
Plattsmouth
3/18/2019: 11:30 a.m. - 5:30 p.m., VFW Post 2543 Plattsmouth, 510 1st Avenue
Weeping Water
3/7/2019: 1 p.m. - 7 p.m., City Building, 101 W Eldora Ave
***
The American Red Cross is reissuing its emergency call for blood and platelet donors to give now after multiple snow storms, frigid temperatures and the government shutdown further reduced lifesaving donations. Local blood donation sites are scheduled in Sarpy County:
How to donate blood
Simply download the American Red Cross Blood Donor App, visit RedCrossBlood.org or call 1-800-RED CROSS (1-800-733-2767) to make an appointment or for more information. All blood types are needed to ensure a reliable supply for patients. A blood donor card or driver's license or two other forms of identification are required at check-in. Individuals who are 17 years of age in most states, (16 with parental consent and where allowed by state law), weigh at least 110 pounds and are in generally good health may be eligible to donate blood. High school students and other donors 18 years of age and younger also have to meet certain height and weight requirements.
Blood and platelet donors can save time at their next donation by using RapidPass® to complete their pre-donation reading and health history questionnaire online, on the day of their donation, before arriving at the blood drive. To get started, follow the instructions at RedCrossBlood.org/RapidPassor use the Blood Donor App.
.
---
.
MARK YOUR CALENDAR!
THINK SPRING!
During these cold days, start cleaning closets and get ready for
MURRAY GARAGE SALES
FRIDAY-SATURDAY
MAY 17-18 2019
(More info, such as sign-up costs, etc. at a later date.)
.
---
.
NEST "Why I Want to Go to College"
Writing Sweepstakes Now Open
For the 17th year, Nebraska State Treasurer John Murante and the Omaha Storm Chasers will be sponsoring the "Why I Want to Go to College" writing sweepstakes, with entries due Friday, March 29, 2019.
Prizes will be awarded to 12 winners who will receive contributions to the Nebraska Educational Savings Trust (NEST) college savings accounts – including $2,000 for first place, $1,000 for second place, and $500 for third place. Three winners will be chosen from each of Nebraska's three Congressional districts, and three winners will be chosen from outside Nebraska.
Each Nebraska winner will receive four tickets to the May 5, 2019 Storm Chasers game at Werner Park in Papillion, where they will be recognized during the game.
"This challenge is a great way for students to focus on their goals, improve their writing skills while also learning how to save for their education. I'm looking forward to meeting the winners and their families at Werner Park," said State Treasurer John Murante.
Families can save for college for their children and grandchildren through NEST, the state-sponsored 529 college savings program that allows for tax-free investments and tax-free qualified withdrawals. Nebraska account owners can qualify for up to $10,000 a year in state income tax deductions.
Students are asked to reflect on the value of education and what they hope to achieve through higher education. Entries are limited to 750 words and should be sent to Becki Frishman, Omaha Storm Chasers, 12356 Ballpark Way, Papillion, NE 68046.
Information about the writing sweepstakes is available on the Treasurer's website at www.treasurer.nebraska.gov/csp/.
About NEST 529
NEST 529 is a tax-advantaged 529 college savings plan and provides four plans to help make saving for college simple and affordable: NEST Direct College Savings Plan, NEST Advisor College Savings Plan, TD Ameritrade 529 College Savings Plan, and State Farm 529 Savings Plan. The Nebraska State Treasurer serves as Program Trustee. First National Bank of Omaha serves as Program Manager, and all investments are approved by the Nebraska Investment Council. Families nationwide are saving for college using Nebraska's 529 College Savings Plans, which have more than 261,000 accounts, including over 84,000 in Nebraska. Visit NEST529.com and treasurer.nebraska.gov for more information.
About First National Bank of Omaha
First National Bank is a subsidiary of First National of Nebraska. First National and its affiliates have more than $21 billion in assets and 5,000 employee associates. Primary banking offices are located in Nebraska, Colorado, Illinois, Iowa, Kansas, South Dakota and Texas.
Investments Are Not FDIC Insured* · No Bank, State or Federal Guarantee · May Lose Value
*Except the Bank Savings Investment Option
.
---
.
"THE WAY to a MAN'S, (or WOMAN'S), HEART
is
THROUGH THEIR STOMACH"
Not only at Christmas, birthdays, Mother's and Father's Day, new graduates, moving into a new home ~ people love receiving new recipes! Even if you just want to give a gift for no reason, this is perfect, and would brighten someone's day.
Members of the Murray Christian Church, Murray, NE, have created a new cookbook that's perfect for gift-giving. There are still cookbook collectors out there that enjoy 'old-fashioned' cookbooks, without having to go on the internet to find good, home-tested recipes and who would surely appreciate this addition to their collection! Included are 78 pages of recipes, along with cooking tips, too.
Cookbooks are only $10 each, with proceeds going to the church.
Call Linda, 402-235-2831, for more information.
Make someone happy and purchase their gift today. Who knows? They might cook up a special treat for you in return! Yum!
.
---
.
Elevate - Murray Churches Youth Groups
First Sunday of each month.
We alternate meetings between Murray Christian and Murray Presbyterian from 5-7 p.m.
Fellowship of Christian Athletes, (FCA), meets at the high school immediately following Elevate meetings at 7-9:00 on the same nights.
If you know of a young person who would like to participate in fun youth group activities, contact either the Murray Christian Church, 402-235-2527, or Murray Presbyterian church, 402-235-2754 for more info.
.
---
.
NEED a RIDE
to
YOUR MAMMOGRAM APPOINTMENT?
The Sarpy/Cass Health Department offers free transportation assistance to women for their mammogram appointment.
The service includes home pick-up, hospital/clinic drop-off, and return home drop-off.

Eligibility includes women age 40-75 years living in Sarpy or Cass counties.
Please call SC Health Department for more information, 402-537-6968.
.
---
.
The Conestoga Backpack Pantry serves the Murray, Nehawka, Union and Beaver Lake areas in southeast Nebraska, although we will not turn away anyone in need. Food packs are placed in the childrens' locker at school to take home on the weekends, helping to sustain them until returning to school the following week.
Your kind donation of non-perishable food items can be made at Cornerstone Bank in Murray during business hours, Monday-Friday: 8:00 am-4:00 pm. We can also pick up your items, if you cannot drop them off. Call Jill at 402-660-3543 to make arrangements.
Some ideas are cereal, juice boxes, granola bars, cereal bars, pancake mix, peanut butter, jelly, tuna or chicken salad packs, fruit cups, raisins, cheese and cracker snacks, macaroni and cheese cups, etc. Keep in mind that some of the children are very young and are possibly 'preparing' their own meals. Easy to open containers are a good option for little hands.
Each time you shop, just pick up one thing and set it aside and after a few weeks, drop off your bag of items at the bank or church.
Thank you!
.
---
.
ATTENTION, NON-PROFITS!
ANNOUNCE YOUR UPCOMING EVENT HERE!
..
.
CIVIC, CHURCH, SCHOOL GROUPS, SPORTS TEAMS & OTHERS
Send your upcoming event news for public attention to Editor@MurrayNebraska.com, and have it published right here in the weekly Newsletter at NO COST.
We're always looking for photos, updates and social occasion stories of your events. If you want better results and a larger attendance, why pass up free advertising?
Please remember to include the basics: who, what, when, where & why. Also include a contact person's name, phone or e-address.
You may also subscribe, (it's FREE), to receive the Newsletter each Wednesday. We won't sell or give your phone number or e-address to anyone. To receive the NL on your phone, go to the big red MURRAY MOBILE box on the HOME page and fill in your cell number.
If you'd rather receive it via email, click the 'WHAT'S NEW' tab above, then 'NEWSLETTER' and 'SUBSCRIBE to NEWSLETTER'.
.
---
.
.
---
HEY! THERE'S EVEN MORE EVENTS AROUND OUR AREA!
.
.
EVENTS IN NEIGHBORING TOWNS:
.
---
.

ATTENTION!

THE ANNUAL MEETING & LOFTE VOLUNTEER RECOGNITION

HAS BEEN RESCHEDULED, (DUE TO WEATHER),

FOR MARCH 3rd at 2PM.
.
---
.
.
---
.
.
---
.
.
---
.
.
---
---
---
.
.
---
.
---
GREENBLATT & SEAY
THE OLD AVOCA SCHOOLHOUSEPERFORMANCE SERIES
Sunday, March 10, 2:30 PM, Schoolhouse Performance Series: Irish/Celtic Music, with Greenblatt & Seay and Friends, in The Old Avoca Schoolhouse, 504 Garfield St., Avoca, NE
Wednesday, March 13 - Friday, March 15, 9 AM - 12 Noon, Schoolhouse Celtic Camp, for fiddlers, violists, mandolinists, guitarists, recorder players, and ukulele players. For more information, and to register, send an email to Debby at debby@greenblattandseay.com
Monday, March 25, 11:30 AM, David in "The Tradition in Traditional Music", Lexington Public Library, Lexington, NE (FREE)
Saturday, April 13, 1 PM - 3 PM, Schoolhouse Scandinavian Music Workshop. For more information, and to register, send an email to Debby at debby@greenblattandseay.com
Sunday, May 12, 2:30 PM, Schoolhouse Performance Series: "Noah's Ark" , the mini-musical, with Greenblatt & Seay and Friends, in The Old Avoca Schoolhouse, 504 Garfield St., Avoca, NE
Saturday, May 25, Tallgrass Prairie Fiddle Festival, Homestead National Monument, Beatrice, NE (FREE)
Saturday, June 1, 2 PM, David in "The Tradition in Traditional Music", Columbus Public Library, Columbus (FREE)
Wednesday, June 5 - Friday, June 7, 9 AM - 12 Noon, Schoolhouse Fiddle Camp for Beginners. For more information, and to register, send an email to Debby at debby@greenblattandseay.com
Sunday, June 23, 12 Noon - 1 PM, 2 PM - 3 PM, Greenblatt & Seay, Scandinavian Festival, Elmwood Park, Omaha (FREE)
.
---
.
.
---
.
---
.
What's next at the Lofte?
The Lofte hosts Jimmy Weber on March 2nd and hold our Annual Meeting and Volunteer Recognition on February 24th.
On February 24th at 2PM join us for our Annual Meeting! This is a free event! If you have been a volunteer at the Lofte, this is the night we recognize and appreciate you! Join us not only for our annual meeting, but for recognition awards for all the people who make the Lofte work!
Then on March 2nd at 7PM Jimmy Weber, local country music singer, songwriter, guitarist and US War Veteran is not only a talented and remarkable person, he has a long resume of music stars he has shared the stage with. Stars like Kenny Rogers, John Denver, Tim McGraw, Keith Urban, Rascal Flatts, Clint Black and Trace Adkins to name a few. He has performed on a USO tour in the Middle East, on the USS Abraham Lincoln, and in Bahrain and Kuwait. To find out more information about Jimmy, and hear some of his music, visit his websitehttp://www.jimmywebercountry.com/
Tickets for Jimmy Weber can purchased by calling the Lofte Community Theatre box office at 402-234-2553, or by visiting the theatre's website at www.Lofte.org and clicking on "Tickets".
.
---
.
.
---
.
CORNHUSKER COUNTRY MUSIC THEATER
(a NONPROFIT ORGANIZATION)
2019 WINTER-SPRING SHOW SCHEDULE:
March 2 - Rayne Magill & Plum Tuckered
March 16 - Elaine Behrends & Friends
March 30 - Jeanette Hill & August Moon Band
April 13 - Al Kelley & Reilly Creek Band
April 27 - Rick Stephens & Friends
SHOWS START 7:30 pm
.
---
.
.
---
.
.
---
.
.
---
.
.
Historian Harlan at Herban Coffee Lab
The second Saturday of each month, 10:00 am at Herban Coffee Lab, Plattsmouth, NE, 'Historian Harlan' will share stories of local characters from early last century. It's always interesting and interactive.
Come join us for some excellent coffee and local history!
.
---
.
.
---
.
.
---
.
PREPARE for SPRING PLANTING of TREES
The Lower Platte South Natural Resources District will begin its annual bare-root tree seedling sales program (i.e. Conservation Forestry Program) starting November 1st. Anyone within the Lower Platte South NRD is welcome to purchase trees. These bare-root trees/shrubs are offered for less than $1 apiece. All species are sold in bundles of 25.
There are over 40 different species available, with windbreak classics like Colorado blue spruce & ponderosa pine, to wildlife friendly shrubs like Chokecherry & American Plum and some forest giants like Bur Oak & Black Walnut. The NRD is also excited to offer some new species this year such as Bald Cypress, Sycamore and Redbud.
Please visit www.lpsnrd.org/programs/trees for complete species list and ordering information. You can purchase them online or by mailing in the printable brochure. The NRD will take orders until March 22nd, 2019 with trees expected to arrive by Arbor Day.
Please visit www.lpsnrd.org for additional information.
.
---
.
.
---
.
Weeping Water's Memory Lane Museum & Soda Fountain
will be closed during winter and will reopen in mid-late Spring, 2019.
Watch for re-opening announcements at that time.
.
---
.
.
---
.
PLATTSMOUTH AMATEUR RADIO CLUB (P.A.R.C.)
KB0SMX
P.A.R.C. members get together Tuesday evenings at Plattsmouth's Burger King at 7 pm.
Monthly meetings the last Saturday of most months at Mom's Cafe in Plattsmouth, 8 am. (NO December monthly meeting.)
Click here or on the radio antenna logo above to read the latest newsletter and calendar.
For more info, contact Roger Behrns, rb55930@windstream.net or call 402-234-6775.
.
---
.
.
---
.
ONGOING EVENTS:
ATTENTION, VETERANS!
Do you need assistance? We're here to help!
Contact Cass County Veteran Service Officer, Brian Coffman.
*
Email:
*
Admin Assistant: Jacie Victor

Phone:
(402) 296-9368
Fax: (402) 296-9369

*
Email:
ccvsoadmin@cassne.org
*
Hours:
Monday – Friday 8 am to 5 pm
Closed noon to 1pm
*

Cass County Nebraska Courthouse
346 Main St., Rm. 102
Plattsmouth, NE 68048
.
---
.

.

BACK TO SCHOOL?
IT ISN'T JUST FOR KIDS ANYMORE!
Now is the Time….
"Now is the time for all good men to come to the aid of their country." Charles E. Weller, an early typing teacher, wrote this as a keyboarding drill for his students. His idea relates to an attempt to overcome the "skills gap".
The United States has unemployed workers while it urgently needs more than 5 million higher-skilled workers. How is that possible? Although many solutions have been offered, employers insist that unemployed American workers do not have the strong literacy, numeracy, and other workplace skills that our country needs to fill its empty jobs and compete in the global marketplace. Who knew that educating oneself is a part of patriotism?
Currently, GED programs across the nation are offering high school equivalency classes including literacy and numeracy skills, in addition to keyboarding, computer, and workplace skill training. Are you looking for a path to better employment? The Plattsmouth Adult Education Program offers classes and training in all these areas.
Classes are free and provided six times per week: Mondays, Tuesdays and Thursdays from 9:30 a.m. to noon and from 6:30 to 9 p.m. at the First Presbyterian Church, 701 Chicago Avenue (lower building.) Classes include individual learning plans and individual study as well as group discussions. Every student will have computer time during each study period.
Call 402-296-3174 ext. 2315 for information or just come at class time and check it out. You will be welcomed by a community of friendly and respectful teachers and students. Don't delay. "Now is the time…"
..
---
.
.
---
.
---
.
---
.
Hope's Closet Hours:
M - F, 10-4
Saturday, 10-3
.
---
---
ARE YOU 55+
and
LOOKING FOR PART-TIME WORK?
The following is an employment opportunity available to older adults in Cass County.
Experience Works is a national, non-profit organization funded by the US Dept of Labor to administer the Senior Community Service Employment Program, which assists people 55 and older in getting updated training to assist in returning to the workforce. This is a federally funded program and offers a no-cost employment service to older adults who qualify.
Once accepted into the program, individuals are placed in a training site in or near their community, where they gain on the job experience while working 20-21 hours/week at $8/hour.
We also help with skill assessments, computer training, resumes, cover letters, job search, etc.
The goal is that through the training and job search assistance we gain help older adults gain good jobs in or around their communities.
Stephanie MahonyEmployment and Training CoordinatorExperience Works, Inc.1111 "O" Street Ste 205--American Job CenterLincoln, NE 68508
Phone: 402-441-1654Fax: 402-441-6038 stephanie_mahony@experienceworks.org Nebraska Toll-free Number: 1-877-314-7526.
---
.
---
.
http://www.keepcasscountybeautiful.com/index.php
.
---
.
HOW TO SUBMIT YOUR NEWS TO THIS NEWSLETTER...
Below is a list of categories that we are happy to post, (at NO COST to you!), in the weekly Murray online newsletter:
Weddings
Engagements
Anniversary
Births
Letters to the Editor
Birthday Greeting
Upcoming Events
Cards of Thanks
Lost and Found
Obituaries
Recipes
Photos
and So Much More!

That's right! These are all items that can appear FREE of CHARGE in each Wednesday's Murray Newsletter and/or Calendar! All YOU have to do is send the information to us - it's that simple!
DEADLINE for submissions to each week's Wednesday Newsletter is NO LATER THAN NOON on the preceding MONDAY.
There are 3 ways you can submit your articles:
1) You may call your information to 402-235-2926 and leave a voice mail with your name and phone number.
2) Email your story with your name, contact info and story, in plain text to:
Send photos in .jpg format, no larger than 495 pixels wide or photos and fliers in a .pdf, to the e-address above with your story in plain text.
3) Send items via the U.S. postal service to:
Editor, Murray Nebraska Website
201 N How Ave
Murray, NE 68409-8403
Be sure to allow enough time to be received by Monday! Also, when mailing items you'd like to get back, please enclose a self-addressed, stamped envelope.
Remember to include 'who, what, when, where and why', along with any other helpful details, such as a contact person and phone.
Again, you must have your name and contact information included with the information.
Thanks for helping to keep YOUR Murray Newsletter fresh and up-to-date!
**********
SUBSCRIBE to the MURRAY NEWSLETTER...
We're glad you're enjoying reading the FREE Murray Newsletter! Would you like to automatically receive it every week?
At the top of the 'Home' page, slide your mouse over the 'WHAT'S NEW' tab. When the drop-down menu appears with 'NEWSLETTER', slide the mouse to the right to 'SUBSCRIBE to NEWSLETTER', then fill in your e-address. Follow the instructions in the email that you receive and that's all there is to it!
It's absolutely FREE and no need to worry...we won't sell or distribute your address to anyone!

---
Community Sustaining Sponsors 2019

2019 Community Sustaining Sponsor
2019 Community Sustaining Sponsor
2019 Community Sustaining Sponsor
2019 Community Sustaining Sponsor

2019 Community Sustaining Sponsor

2019 Community Sustaining Sponsor

2019 Community Sustaining Sponsor
2019 Community Sustaining Sponsor

2019 Community Sustaining Sponsor

2019 Community Sustaining Sponsor

2019 Community Sustaining Sponsor

2019 Community Sustaining Sponsor

2019 Community Sustaining Sponsor

2019 Community Sustaining Sponsor

2019 Community Sustaining Sponsor
2019 Community Sustaining Sponsor
.
---
.
Read Our Neighbors' Newsletters!
Also FREE SUBSCRIPTIONS to these Newsletters!
Click on any of the links below to subscribe.

Click to Read today's SpringfieldNebraska Newsletter
Click to Read today's PlattsmouthNebraska Newsletter
Click to Read today's WeepingWaterNebraska Newsletter
Click to Read today's NehawkaNebraska Newsletter
Click to Read today's CedarCreekNebraska Newsletter
Click to Read today's AvocaNebraska Newsletter
Click to Read today's ElmwoodNebraska Newsletter
Click to Read today's MurdockNebraska Newsletter
Click to Read today's LouisvilleNebraska Newsletter
Click to Read today's EagleNebraska Newsletter
Click to Read today's MurrayNebraska Newsletter
Click to Read today's UnadillaNebraska Newsletter
Click to Read today's UnionNebraska Newsletter
Click to Read today's AlvoNebraska Newsletter
Click to Read today's ManleyNebraska Newsletter